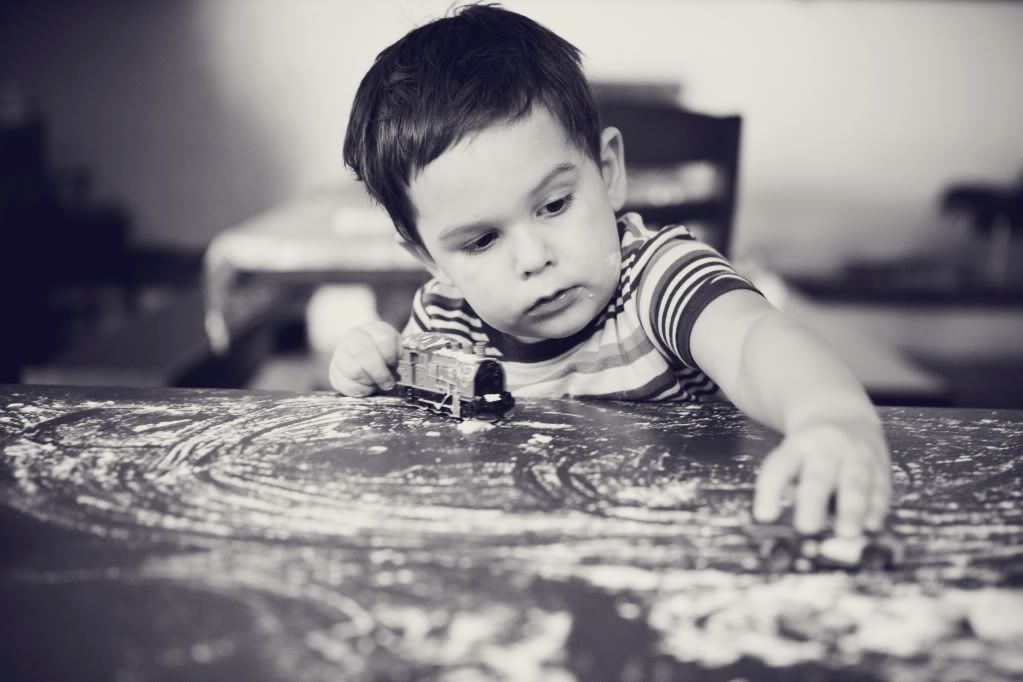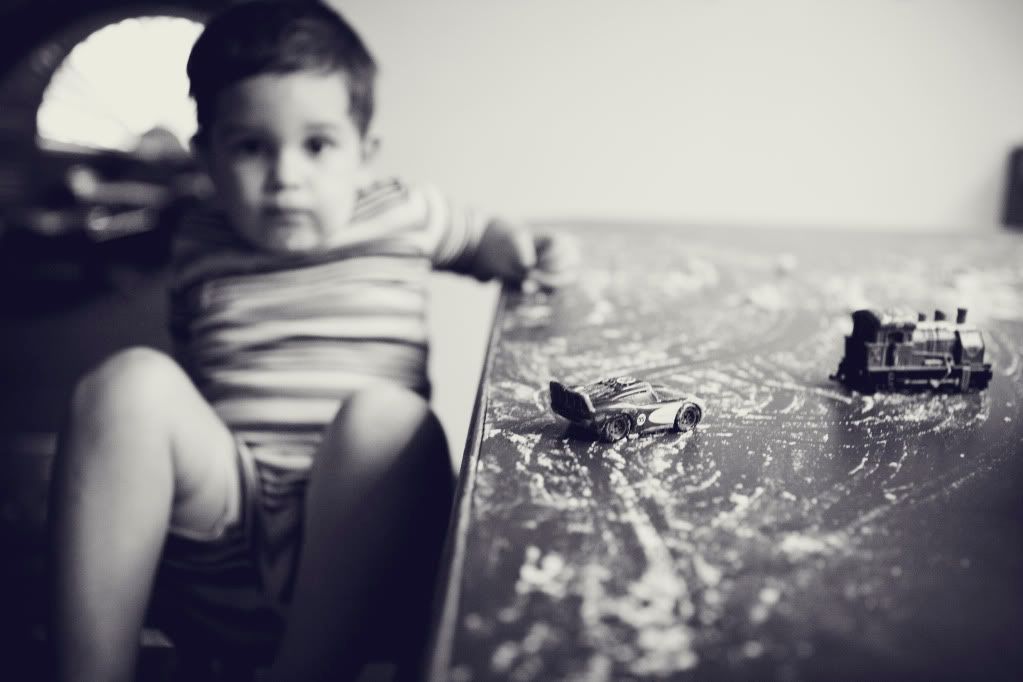 Nolan having fun making tracks in the flour while Nana was making pies one morning.
I can't believe it's been over a month since I last posted. Time goes by so fast when life is crazy.
I feel like Nolan has matured so much just in the last month even.
He has finally started talking, well at least words we can understand now.
It's been something I've been worrying about the last six months or so but it finally clicked for
him and now he doesn't stop. He coppies ever single thing we say and now we can
have actual conversations together, which is soooo fun. He also has a little lisp when he
says his s's. I know it's not gonna be so cute in five years but right now it's adorable!
He has gotten to be super cuddly and loving lately, which I love. He's always running
up to me yelling "Mommy" and gives me big old bear hugs. Melts me on the spot.
He is still obsessed with trains. His train tracks are still his most beloved toy.
I sure have a love hate relationship for those things though. They are very entertaining for him
but at least 15 times a day he'll drag me into his room to "Fix it" even though
a huge majority of the time his tracks aren't even broken. I am constantly fixing and
rebuilding new track ways for him. Drives me crazy! Even when the table is full of tracks if
I haven't used every single one he makes me redo it until they are all used. Exhausting!
He has a couple of bridges which he calls his "Big big bridge", the cutest thing in the world.
He got it from one of his Thomas books. Adorable!
This boy loves to eat! He is constantly saying "I's hungry". He will eat pretty much anything,
except for most vegetables, although he does love tomatoes.
Part of his nightly routine is watching Sprouts with Paco in his big comfy chair.
He has all the songs memorized and loves to sing along. After Sprouts, we read books and rock
in the rocking chair, his new thing is for us to rub his back and belly while he's laying in his crib.
This can be a very long process because whenever we go to leave he'll flip over and lift up
his shirt and say "Rub". It's just so dang cute we give in every time.
I can go on an on but I'm sure you are all very bored by now. I just wanted to document
some of things about this boy since I don't journal...ever. Sad, I know.
Thanks for all the birthday wishes. I had a lovely day spent with my hubby.
Twenty five feels so old.